Fuerte de San Diego
Fuerte de San Diego
Fort San Diego (called Fuerte de San Diego in Spanish) is one of Acapulco's major historical tourist attractions that lets one imagine what life must have been for the first settlers and the old pirates. Its canons are perched on the thick, star-shaped walls, looking out onto the ocean and to the city that has grown up around it. The original old fortress was destroyed in an earthquake in 1776 and not rebuilt until 1783.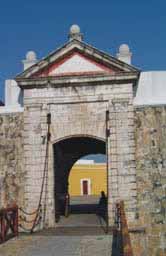 Though far from being an elaborate colonial site like those you can see in places like Mexicc City and Taxco, Fort San Diego does have a few interesting exhibits. It is home to the Acapulco Historical Museum, and one of the best book stores in Acapulco. (It has only a few rows of books, but they are all good ones).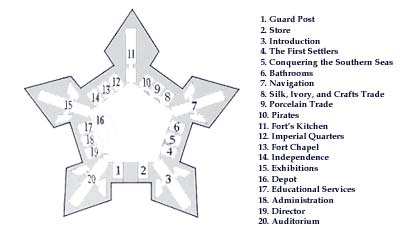 If you like pirates and reminiscing about the past, Fort San Diego is worth a visit. Though unspectacular, it is a great way to while away a couple hours and acquire a sense of Acapulco's historical roots, together with its commercial history (complete with pirates), in contrast to the beaches and the bars.
Fortín Alvarez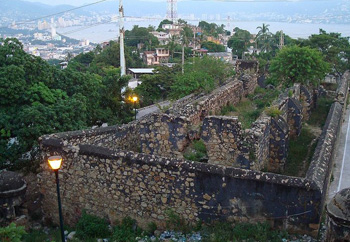 A "fortín" is a small, fortified outpost, usually related to a larger fort, used for storing armaments for locals living nearby to organize a defense of their land. As a defensive measure it was like a bunker, and for arming people it was an arsenal. The Spanish built several around the tops of the ridges above Acapulco, to give advance warning of the arrival of anyone, friend or foe, by land or by sea. The Alvarez Bunker (Fortín Alvarez) is one of these, and perhaps the best preserved of its kind. It was built when Fort San Diego was first constructed, in 1616. One of its functions was to act as powder magazine for the larger fort. Storing gunpowder in the fort itself was considered too dangerous. A keeper's house and a foundry are also nearby Fortín Alvarez, Which is on "Cerro de la Mira," roughly meaning, "Lookout Ridge." Though the site has been allowed to deteriorate in recent years, it still remains an important historical site, with lots of information about Acapulco in the 17th century. It is located at Avenida Fortín Alvarez, Cerro de la Mira, Acapulco, Gro., Mexico.
Locations
Acapulco
Mexico
16° 50' 59.5968" N, 99° 54' 8.2152" W
Acapulco
Mexico
16° 50' 59.5968" N, 99° 54' 8.2152" W