Acapulco Weather
Acapulco boasts a lot of sun, hot days, warmish nights and fantastic ocean breezes. Some quip that Acapulco gives you the choice between hot and humid and warm and humid. Others say there are only two seasons: hot, and rainy.
Acapulco is located at latitude 16°45'N. This means it is "tropical," that is, it lies between the Tropic of Cancer and the Equator. It is at longitude: -099°45'W (making it about as far west of Greenwich as parts of Texas and Kansas). It is in Mexico's equivalent of the central time zone.
Acapulco's elevation begins at sea level, naturally, and rises very quickly up to over 1000 feet (300 m) on the surrounding ridges.
The best time to be here is during the "high season" months of December through April. The days are warm, sunny and dry. The nights are comfortably cool with clear skies and lots of stars. Heat, rain and humidity are nowhere to be seen. The weather at this time of year is all the more pleasant, when one thinks of friends and family back in Canada or the United States, facing freezing temperatures.
For those who are not troubled by tropical summer heat and high humidity, summer is a great time to visit Acapulco because of the bargains that can be had, and because things are pleasantly quiet, different from the high season.
The charts below were compiled over many years.
The Rainy Season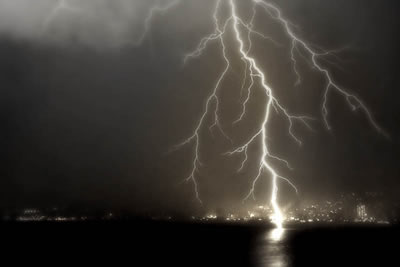 The rainy season in Acapulco runs from May to October or even into early November. And it can rain hard! – usually towards the end of the day. Drizzle can go on all day. Then, a powerful storm ("tormenta") can blow in quickly and soak everything, flooding streets and dry arroyos.
Acapulco Temperature Statistics (F/C)
| Month | Average Termperature | Average High Termperature | Average Low Termperature | Highest Termperature on Record | Lowest Termperature on Record |
| --- | --- | --- | --- | --- | --- |
| Jan | 82 / 27 | 87 / 30 | 72 / 22 | 100 / 33 | 63 / 17 |
| Feb | 80 / 26 | 87 / 30 | 72 / 22 | 93 / 37 | 64 / 17 |
| Mar | 80 / 27 | 87 / 30 | 72 / 22 | 100 / 37 | 63 / 17 |
| Apr | 79 / 28 | 87 / 30 | 73 / 22 | 100 / 35 | 64 / 17 |
| May | 81 / 28 | 89 / 31 | 76 / 24 | 95 / 37 | 61 / 16 |
| June | 83 / 28 | 89 / 31 | 77 / 25 | 100 / 37 | 64 / 17 |
| July | 84 / 28 | 89 / 31 | 77 / 25 | 100 / 35 | 63 / 17 |
| Aug | 84 / 28 | 89 / 31 | 77 / 25 | 95 / 37 | 72 / 22 |
| Sept | 84 / 28 | 88 / 31 | 77 / 25 | 100 / 37 | 68 / 20 |
| Oct | 83 / 28 | 89 / 31 | 77 / 25 | 100 / 35 | 66 / 18 |
| Nov | 84 / 27 | 89 / 31 | 75 / 23 | 95 / 37 | 66 / 18 |
| Dec | 82 / 27 | 88 / 31 | 73 / 22 | 99 / 37 | 66 / 18 |
| Yearly | 81/ 28 | 88 / 31 | 75 / 23 | 100 / 37 | 61 / 16 |
Acapulco Weather Statistics
| Month | Average Number of Days above 95F / 35C | Average Number of Days above 85F / 29C | Average Number of Days below 75F / 23C | Average Number of Days below 65F / 18C |
| --- | --- | --- | --- | --- |
| Jan | 0 | 27 | 30 | 0 |
| Feb | 0 | 24 | 27 | 0 |
| Mar | 0 | 24 | 30 | 1 |
| Apr | 0 | 24 | 23 | 0 |
| May | 0 | 28 | 15 | 0 |
| June | 1 | 28 | 9 | 0 |
| July | 0 | 30 | 9 | 0 |
| Aug | 0 | 29 | 10 | 0 |
| Sept | 0 | 26 | 9 | 0 |
| Oct | 0 | 29 | 9 | 0 |
| Nov | 0 | 29 | 21 | 0 |
| Dec | 0 | 29 | 28 | 0 |
| Yearly | 2 | 327 | 219 | 2 |
Humidity & Wind in Acapulco
| Month | Average Morning Relative Humidity | Average Evening Relative Humidity | Average Dew Point | Average Wind Speed |
| --- | --- | --- | --- | --- |
| Jan | 89 % | 62% | 71 | 11 mph |
| Feb | 89 % | 62% | 70 | 11 mph |
| Mar | 89 % | 62% | 71 | 12 mph |
| Apr | 88 % | 65% | 72 | 12 mph |
| May | 88 % | 65% | 74 | 11 mph |
| June | 89 % | 65% | 75 | 12 mph |
| July | 89 % | 66% | 75 | 11 mph |
| Aug | 90 % | 66% | 75 | 11 mph |
| Sept | 91 % | 69% | 75 | 11 mph |
| Oct | 92 % | 66% | 75 | 11 mph |
| Nov | 91 % | 64% | 74 | 11 mph |
| Dec | 91 % | 64% | 72 | 10 mph |
| Yearly | 90 % | 65% | 73 | 11 mph |
Precipitation in Acapulco
| Month | Average Number of Days with Precipitation | Average Number of Days with Thunderstorms | Average Number of Days with Fog | Average Number of Days with Smog/Haze |
| --- | --- | --- | --- | --- |
| Jan | 1 | 0 | 0 | 1 |
| Feb | 1 | 0 | 0 | 2 |
| Mar | 0 | 0 | 0 | 4 |
| Apr | 0 | 0 | 1 | 13 |
| May | 2 | 2 | 1 | 19 |
| June | 12 | 5 | 0 | 4 |
| July | 13 | 7 | 0 | 1 |
| Aug | 14 | 7 | 0 | 1 |
| Sept | 15 | 6 | 0 | 1 |
| Oct | 7 | 4 | 0 | 3 |
| Nov | 2 | 1 | 0 | 4 |
| Dec | 1 | 0 | 0 | 3 |
| Yearly | 68 | 32 | 2 | 56 |