Shopping in Acapulco
La Isla Shopping Village
La Isla Shopping Village is Acapulco's new mega shopping plaza, which opened in 2008 in the Diamante area, just a few minutes from the airport. With fountains, outdoor cafés, a man made canal, a movie theater and some of the world's trendiest retail chains, La Isla is reminiscent of upscale malls you might find in Los Angeles and other US cities. In fact, when visiting La Isla, it is very easy to forget that you are in Acapulco, Mexico. La Isla greets visitors with much more than shopping choices: there is entertainment, fashion, dining and play. An aquatic entertainment park has a pool with dolphins. La Isla has gambling, a 10-cinema theater, and two night clubs. With the addition of Liverpool and Palacio de Hierro (two large, well-renowned high-end Mexican department store chains), together with well-known names like Pier 1 Imports, DKNY and Calvin Klein, the property attracted over 6 million shoppers in the first year alone.
La Isla was designed for the discerning consumer, with good taste and a yen for the high end. International singing star Luis Miguel and GICSA, one of Mexico's most prominent commercial developers, teamed up to provide this "new concept" in elegant retail. They say it is unique to Mexico, which is true if you ignore their almost identical development in Cancún. In Acapulco, more than 3 million (275,000 square meters) have been constructed for this community of luxury residences (including some beach front properties), swank retailers and beautiful ambiance. Currently shoppers may browse through more than 150 boutiques and shops, spread over nearly a half million square feet (45,000 square meters) of retail space. Boulevard de las Naciones (Acapulco Diamante), Acapulco, Gro., México.
Galerías Diana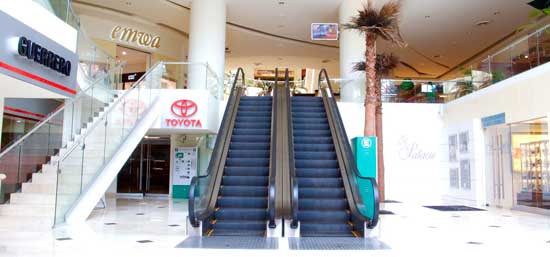 Galerías Diana is a new and impressive shopping mall right at the Diana traffic circle, across from the Emporio Hotel, on the inland side of the Costera. It first opened in 2005. Inside the Galerías Diana you will find lots of small boutiques and shops, like the fashionable "Pull and Bear" and American and European brands such as Zara, Nine West and Puma. There is a large department store (C&A) and several eating and entertainment options, all spread out over several levels, each of which surrounds a vaulted atrium in the center. On the main floor of the atrium, Starbucks operates a coffee shop. At the top there is a nine-screen "Cinépolis" – a fancy multi-plex cinema with bar service and leather lounge chairs outside the individual halls. Galerías Diana also has a large video arcade for the kids and a slot casino and sports book for the grown ups. The restaurant "Palacio" of the Palacio de Hierro franchise operates a restaurant and gift shop on the main floor. There is also a Fisher's Restaurant, famous for its fresh seafood. Parking is available under the building. Costera Alemán 1926 (Fracc. Magallanes) 39670 Acapulco, Gro., México.
Gran Plaza
La Gran Plaza (on the inland side of the Costera) is perhaps the most spacious mall in Acapulco proper. It is also a center of entertainment, and it has a large food court with several different contributing vendors (including traditional Mexican, pizza, burgers, chicken, Chinese, sweets, and juices). The air conditioned inner space is divided into six plazas on two levels, around which the shops and boutiques are distributed. All types of stores are represented, from drugstores, to elextronics, travel agencies, and even Tel-Cel's customer service center. The main store in La Gran Plaza is "Fábricas de Francia," considered to be a top-of-the-line clothing and housewares department store. In addition to the shopping, La Gran Plaza has a multi-plex movie theater, a slot machine casino and "Recorcholis," a game-oriented playground for kids, including live clown acts from time to time. On the western side (nearer Parque Papagayo) a VIPs restaurant and an El Portón restaurant provide venues for dining, conversation and rest after shopping. During holiday times La Gran Plaza schedules free entertainment events (like popular singers and trios) for the inner plaza areas. Costera Miguel Alemán 1632 (Fracc. Magallanes), 39670 Acapulco, Gro., México. Tel: (744) 486-6479
Plaza Bahía
Plaza Bahía (on the bay side of the Costera) has four stories of air-conditioned shopping, just west of the Crowne Plaza Hotel. Boutiques in this shopping mall offer footwear and jewelry, quality furniture and house wares, sporting goods, and fashion. Haye's Restaurant (Lebanese cuisine) is also found in Plaza Bahía. The building also houses a movie theater and a bowling alley. The bowling alley includes a sports book, a bar, and big-screen TV's. The center also hosts a plaza of fast food places. Most shops are open from 10-10, and the movie theater and bowling alley stay open later. Costera Alemán 125 (Fracc. Magallanes), 39670 Acapulco, Gro., Mexico. Tel: (744) 485-6939 or -6992.
Plaza Marbella
Plaza Marbella offers several interesting shops and boutiques as well as a couple of places to eat. It is sometimes called "Plaza Olvido" because the Olvido Restaurant is there, but that is a misnomer. The shopping area is partly open-air and partly indoors, designed and decorated in a bright, Mediterranean style. On the bay side of the Costera, Plaza Marbella has a great view of the water. The "Aca Mall," as it is sometimes called, is the shopping cluster next to the entrance to the Plaza Marbella, and seems like a continuation of it. Martí Sports, Tommy Hilfiger and Aca Joe are some of the names found in this part of the shopping area. Costera Alemán at the Diana Traffic Circle (Condesa Area), 39690 Acapulco, Gro., México. Tel: (744) 481-1788.
Plaza Condesa
Plaza Condesa is a small group of shops on the bay side of the Costera, right next to the Fiesta Americana. Shops include Izod, Guess and Bronce Swimwear, as well as a couple of local fashion boutiques and Recaprint (computer printing support). Costera Alemán 116 (Condesa Area), 39690 Acapulco, Gro., México.
La Vista
La Vista is a fashion mall in Las Brisas. It is popular with those looking for the latest in trendy styles. Each boutique is self-contained, and they are all in colonial-style architecture. The main retail operation includes a craft store, an art gallery, a music store, a boutique and a restaurant. Prices are considered compatible with the standards of New York or Paris. Carretera Escenica, s/n (Las Brisas), 39868 Acapulco, Gro., México. Tel: (744) 434-0170 (hotel).