High Tides Affect Hotels and Markets
By:
Staff
| Real Acapulco News - 08 September, 2011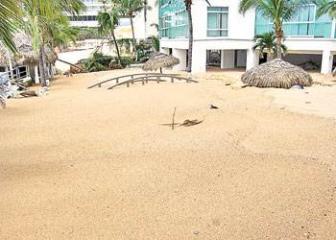 (Acapulco, ElSol 7 September) Over 100 booths in open air markets of Acapulco and four hotels were inundated by sand, brought by the extremely high tide surge caused by a passing tropical storm. Thirty persons were evacuated. No injuries were reported, but the patios and swimming pools of the hotels were covered in sand. The beaches near the Hotel Calinda and the Hotel Presidente, in the Golden Zone, received the heaviest impact. Beach furniture, umbrellas, and merchandise from the clothing and souvenir stands were carried away.