Road to Acapulco: Expensive, Deteriorated and Insecure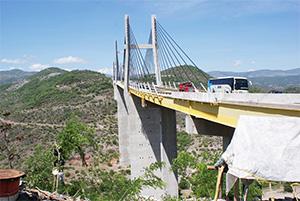 (Acapulco, AN 11 August) Over the past weekend, a family was mugged on the "Autopista del Sol," the toll road between Cuernavaca (near Mexico City) and Acapulco. Elements of the Army surprised the attackers, killing two of them. In the exchange of gunfire, both the father and mother were wounded, and a baby under the age of 2 was killed by a bullet. The repercussions of this tragedy have been felt throughout the State of Guerrero. Tourists might feel unsafe in Acapulco because of the rash of drug-related violence; now, however, they can also feel unsafe on the road between Acapulco and the nation's capital.
Those who do not know the road might think it is a wide, spacious limited access highway, considering that the trip from Mexico City to Acapulco and return costs well over US$100 in tolls, a higher per-mile cost than virtually anywhere else in the hemisphere. But no: the road is narrow and winding. It is not a limited access highway; and sometimes it is reduced to just one lane in each direction. Recently travelers have complained of the poor maintenance of the road, with potholes so deep they can ruin tires and break axles. Services along the road are scarce, as it winds through the wilderness of the Southern Sierra Madres. Now, in addition to poor road conditions and drunk drivers, travelers also need to keep an eye out for highwaymen and robbers.
One popular drug gang activity is to throw bodies off the half-mile-long suspension structure called Solidarity Bridge (between Paso Morelos and Chilpancingo). Since 2008 over 40 cadavers have been found in the deep ravine 500 feet below. Another bridge on the route, El Zapote Bridge, has also been used frequently by organized crime for the purpose of disposing of bodies. Near the first tunnel on the route, at Agua de Obispo (after the Palo Blanco toll booth), gunmen hide out in SUV's by the side of the road, flagging down cars and trucks. Typically they steal the cars and kidnap the drivers. As a result, many frequent visitors to Acapulco from Mexico City now avoid driving the route at night.
Both Governor Aguirre and Mayor Añorve have called upon the federal government to step up security operations along the Autopista del Sol, as it is under federal jurisdiction.