Ocean Star Reimburses Stranded Tourists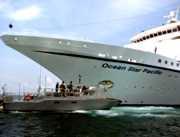 (Acapulco, NA 2 August) The national cruise ship line, Ocean Star Pacific, has encountered one problem after another. Recently, the Ocean Star, due to depart Acapulco on Sunday, failed to arrive in the port, leaving hundreds of disappointed, paid, would-be passengers completely stranded. About 100 of them organized and marched on the Costera Alemán, stopping traffic. They demanded an immediate reimbursement. Some took their complaint to the federal consumer protection agency. Spokesmen for Ocean Star made no explanation why the cruise ship did not arrive in Acapulco; an unidentified agent simply said that the shipping company was not able to release the vessel to travel. Eventually it became clear that the air conditioning system on board the vessel had failed, and so the cruise ship remained stranded in Manzanillo.
Today it was announced that the municipal government intervened to arbitrate between passengers and cruise line, and that all the stranded travelers would receive full reimbursements. Most of the bookings were made to visitors from the Federal District. In addition, the cruise line offered a week's lodging in Acapulco as a form of consolation. Reimbursements will be made directly into the travelers' bank accounts by today. The disappointed cruise ship patrons have been put up at the Crowne Plaza Hotel in Acapulco, awaiting a disposition of the crisis. In all, about 750 persons were affected by Ocean Star's inability to take on passengers in Acapulco on Sunday.