Mayor Takes Tianguis Protest to Mexico City
By:
David Real
| Real Acapulco News - 12 May, 2011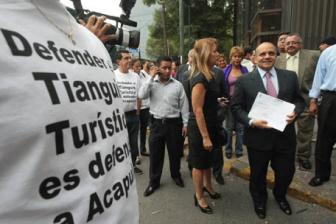 (Mexico City, NA 12 May) Acapulco Mayor Manuel Añorve Baños, accompanied by his tourism secretary, Erika Lührs and 150 other Acapulco residents and supporters, set up a protest in front of the federal Department of Tourism Promotion in Mexico City yesterday. The banner above them said, "Return the Tianguis Turístico. Acapulco is also Mexico." In a press briefing the Mayor said he will not be an accomplice of department chief Gloria Guevara Manzo "in the theft and despoiling of the Tianguis Turístico." He wanted to be clear that he will defend, together with all other Acapulqueños, the city's assets, its employment, and an important source of income. He was accompanied by two local representatives to the federal legislature, several city councilmembers from his party (the PRI), and private representatives of the hotel and tourism sectors.
Añorve pointed out that Acapulco was truly the first tourism destination in Mexico, and has been contributing to the national economy ever since. Acapulco helped to create the other areas, like Cancun, Puerto Vallarta and others, because it was from Acapulco that labor and know-how came for the party boats, parasailing, cooks, water craft, and many other things. He said that Acapulco, not the federal government, established the Tianguis Turístico in 1973, and that it has had 36 successful editions, starting in 1976, and culminating in this year, 2011. He said, "Gloria Guevara is mistaken in trying to take asset of the people of Acapulco and Guerrero. It contradicts federal policy about generating jobs and fighting poverty." He added that the head of federal tourism promotion "has all the intentions of taking the Tianguis to the Riviera Maya, and she knows that she's taking from Acapulco 2,000 jobs and over $200 million pesos of economic inflow. She created a committee made up of her own people, that is, she's rigging the choice, more than in any of Mike Tyson's fights, so as to steal the Tianguis from us."
The mayor added that "the lack of security runs throughout the whole country. It is not just Acapulco. This problem exists in Cancún, Mazatlán and other places. Here at least, we are working with the Army, Navy and Federal Police."
The press also asked the mayor about a previous statement by Guerrero State Tourism Secretary Graciela Báez Ricárdez, who said that the mayor was being erratic and that he had politicized the problem. She added that he would do better to quit squealing and get down to the work of cleaning up the beaches. Añorve responded: "Graciela needs to calm down. I ask her: Does she favor keeping the Tianguis Turístico in Acapulco or does she support the robbers?"