Erika Lührs is Acapulco's New Secretary of Tourism
By:
David Real
| Real Acapulco News - 01 March, 2011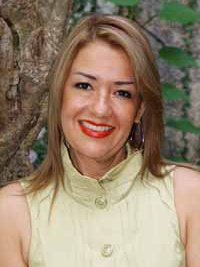 (Acapulco, El Sur 1 March) Last night the city council, in open session, approved Manuel Añorve's nomination of Erika Lührs Cortés as the city's Secretary of Tourism. In the first two years of his administration, Ms. Lührs occupied the position of Secretary of Social Development, resigning to work on the Añorve campaign for governor. Opposition council member Oliver Quiroz Vélez (Convergencia) opposed the nomination, asking why the city should award a position to a person who had already resigned once to work on a "personal project" (a political campaign). Additionally the opposition complained that tourism posts are always given out as political patronage to persons with no training or experience in the field, resulting in a squandering of public resources and no effective promotional projects.
A PRI council member, Ramiro Solorio Alamazán, defended the nominee, saying that she served with distinction in her previous position, and that she was a competent, energetic and intelligent woman, who, more than anyone else, could get the job done. He added, in a political punch against the PRD, that Ms. Lührs could school the apparent nominee for the state-level position in tourism promotion, Graciela Báez Ricárdez, who not only has no professional background in tourism, but also does not even come from the state of Guerrero. "Ms. Lührs could act as her tour guide and show her around Acapulco," he said. Federal District Governor, Marcelo Ebrad, a possible PRD candidate for President, suggested Ms. Báez's name to governor-elect Ángel Aguirre. She had served Ebrad in his government previously.
PRD council member Ester Muñiz retorted, "Acapulco has no need for tour guides," suggesting that the PRI comment was not only politically motivated, but misogynist, patronizing and rude. She called on everyone to let these two women have the opportunity to get the job done.
When called to a vote, Ms. Lührs was approved as municipal Secretary of Tourism, replacing Jessica García Rojas, who had been criticized by some private sector leaders for her lack of knowledge or experience in tourism. Though a supporter of Añorve, Ms. García was a member of the PAN, and not a PRI loyalist like Ms. Lührs.