Grand Hotel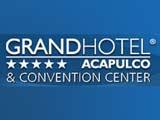 The Grand Acapulco Hotel & Convention Center has a commanding view of Acapulco's bay and out towards the high seas beyond. At the end of Acapulco's Golden Zone, the Grand Hotel Acapulco is a short walk or ride to many of Acapulco's most elegant restaurants and famous discotheques/night clubs. It offers 632 rooms on 23 floors. Many different meeting rooms and conference facilities are at your disposal. This hotel provides Kosher food and facilities for guests, wedding parties and conferences.
Hotel Information
Services & Amenities:
The hotel posts an assistant manager round the clock. Staff members are multilingual. A complete concierge desk organizes tours, excursions and other activities for guests. A large shopping area can be found on the level of the main lobby. All first-class hotel services are available through the front desk and/or concierge.
The Grand Hotel Acapulco offers the only strictly Kosher restaurant in town: the El Isleño Restaurant operates a Kosher kitchen from December thru February specializing in Mehadrin cuisine -- "full hashgocho" and full-time Rabbinical supervision. There is a Synagogue in the hotel, decorated with stained glass. Orthodox services are supervised by the Rabbinate. The Mikveh Tevila is fully Orthodox (reserved only for women). on the Mexican Riviera. A complete Halav Yisrael breakfast buffet (dairy). Lunch and dinner are meat only, with glatt Kosher ingredients. Shabbat dinner is a special selection of dishes, and Shabbat brunch on Saturdays also (Shabbat Cholent). On Shabbat and Hags a special Shabbat elevator is provided. The hotel has kept mechanical keys for those who require them, and there is a door opening service.
Rooms:
Rooms have sliding glass doors to private balconies with views of the Bay. All have top-grade linens, marble baths with tub and shower, air-conditioning, in-room safes, toiletries, satellite TV, Internet access, DDD telephones, mini-bar, coffee maker and electronic keys. Options include 2 double beds or one king-size. Deluxe rooms occupy the upper floors of the hotel. Tower suites are double-sized (133 square meters) with a living and dining area. Non-smoking rooms are available.
Dining & Drinks:
The Grand Hotel Acapulco provides guests with a choice of three restaurants and two bars. These first-class restaurants are supervised by talented and specialized chefs.
La Ceiba provides an elaborate breakfast buffet with cooking stations from 7 to 12:30.
El Pescador provides gourmet dining, mainly seafood dishes, accompanied by a spectacular view. This restaurant also operates a wood-fired pizza oven. Live guitar music, romantic dining in a Mediterranean setting from 12:30 pm to 11:30 pm.
Zapata, Villa & Compañía is pure Mexican tradition, with Pozole and live music every Thursday. On other days, a traditional quartet provides the background for the best in Mexican cuisine.
Activities:
The main attraction is the Grand Hotel's beach on Playa Icacos. There many water sports are available (like jet-skis, waterskiing, sailing, etc.) The fitness center and the close by tennis club offer active options. To pamper yourself, visit the Spa and Wellness Center. The concierge offers other options like horseback riding, hiking, and facilities for barbecue.
Health & Beauty:
The Alory Spa and Wellness Center offers Jacuzzis, steam baths, saunas, massages and all forms of body and facial treatments.
A beauty salon and fully-equipped fitness center are popular with guests at the Grand Hotel Acapulco.
Meetings & Conventions:
The Grand Hotel Acapulco & Convention Center has 14 meeting rooms that can handle between 10 and 900 attendees, completely supported by the banquet catering staff. The main ballroom holds 900 (theater) or 600 (banquet). Divisible into sections for 50-500. On the top floor, with amazing views, the Número Uno salon can serve 500 for a conference or 400 for a banquet. Several smaller areas can be arranged for board meetings and private conferences, with capacities from 20 to 200.
Pools:
Grand Hotel Acapulco offers two large, resort-style pools, described as "free-form" with gardens all around, including palm trees and waterfalls. Sunbathing facilities are provided, and also a kid's pool.
Weddings:
Consult the hotel's wedding coordination staff to arrange for all the details of a perfect, romantic wedding in Acapulco. The El Cabaret Ballroom can accommodate a wedding for up to 80 guests. Other venues, indoors and outdoors, can be arranged within the premises for up to 400.
Policies:
• Check-Out: 1:00 pm
• Check-In: 3:00 pm
• Cancellation: No fee if canceled 3 or more days prior to arrival. One night charge for cancellations within 2 days of the reservation.
• Children and extra beds: Two children under 12 stay free (using existing bedding). One extra person costs $20.00 per night person (using existing bedding). Extra beds, cribs or cots are available by prior arrangement. Maximum per room: 1
• Pets: Pets are not allowed.
• Credit cards: American Express, Visa, MasterCard
(4 stars)