El Tropicano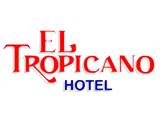 Built in 1966 and thoroughly renovated in 2000, El Tropicano is a comfortable, three-star accommodation on the Costera Alemán, near the Wal-Mart Center and the Naval Base. It offers 137 rooms on two floors. The blue and white building is a quadrangle with a central courtyard filled with palm trees and a tropical garden. In the center the hotel provides two swimming pools for adults and one for children. Guests have a choice of two on=site restaurants and a piano bar. El Tropicano is on the inland side of the Costera Alemán, about 200 meters from Icacos Beach. It is very handy to many of Acapulco's most famous dance clubs and night spots, as well as the Cici Water Park, the International Convention Center, a multiplex cinema and shopping.
Hotel Information
Services & Amenities:
Housekeeping and maid service is provided daily. The hotel offers safe deposit boxes and has round the clock security guards. High-speed Internet access is available in all common areas of the hotel. Other services provided by the hotel (for which additional fees apply) include room service, laundry and dry cleaning, in-room babysitting, barbershop and hair stylist, car rental, and business services (including copies, faxes, printing, clerical help, translations). A gift shop, convenience store, boutique and travel agency are available near the reception area.
Rooms:
The rooms of El Tropicano are decorated in a tropical style, with lots of light and pastel tones. Each of the 137 rooms (or suites) has a balcony that overlooks the garden or the pool. Each has a telephone with voice mail, air conditioning and cable/satellite color television. Baths are shower only. Guests can request connecting rooms or the addition of a crib or rollaway. Some rooms have refrigerators.
Dining & Drinks:
Guests of El Tropicano have a choice of two restaurants. Los Navegantes serves seafood and Mexican traditional cuisine, for lunch and dinner, and is a favorite retreat of local residents in Costa Azul. The atmosphere is relaxed and casual. (Daily, 1 pm-10:30 pm).
La Cabaña, which is located by one of the swimming pools, serves an international menu with Mexican culinary touches. It is also open for breakfast. (Daily 8a-10p). Acapela, El Tropicano's piano bar, opens at 10 in the evening and continues with live music until 5 am.
Activities:
El Tropicana provides ample space for sunbathing in the solarium and by the pools. Close by, at the beach, many options are available besides playing in the waves. Food and drink service is provided, as well as opportunities for boating, fishing, diving, snorkeling, and other water sports. Acapulco also is a great place for golf, tennis, and horseback riding. For a complete list of sightseeing, shopping and sporting activities, El Tropicano is in the center of Acapulco's nightlife, a short walk or ride from many dance clubs, fine restaurants, and well-known bars. Examples: Baby'O, El Alebrije, Nina's, Hard Rock Café, Planet Hollywood, Salon Q and Hooter's.
Shopping:
Within easy walking distance of the hotel are three large grocery-department stores as well as numerous smaller shops, boutiques, and even on the street sale of handicrafts by indigenous artisans.
Pools:
Two adult swimming pools and one children's pool are provided on the premises.
Policies:
• Check-in time is 3 pm; check-out time is 1 pm.
• Credit cards are accepted
• Reservations must be guaranteed with a credit card
• Pets are not allowed.
(3 stars)