El Presidente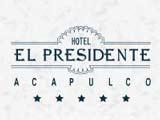 El Presidente Acapulco is a favorite place to stay for international tourists, as it is strategically located right above Condesa Beach and on the Costera Alemán, not far from some of the most visited bars and restaurants of this port city. The views are to the bay or to the mountains. Many units are held as fractional ownership, administered by the hotel reservations staff. The building has 161 units on 12 floors.
Hotel Information
Services & Amenities:
The lobby gift shop is a convenient place to buy souvenirs and pick up any needed sundries like magazines, toiletries and batteries. There is also a car rental desk in the lobby. Certain areas of the hotel have been built to accommodate guests with disabilities. (If this is a matter of interest, be sure to mention it at the time of booking a reservation.) Medical assistance is always available, and baby sitters can be arranged through the concierge. Safe deposit boxes are provided at the front desk. Free self-parking.
Rooms:
El Presidente offers comfortable, air-conditioned rooms. Most of them enjoy excellent views of the bay or the mountains. They all have cable TV and a data port. Choose from terrace units with a bay view, penthouses, suites, and standard rooms.
Dining & Drinks:
The two restaurants of El Presidente are El Gaucho and Bugambilias. El Gaucho specializes in meats cooked Argentine style on the grill in an open-air setting. It also has a variety of continental dishes. Bugambilias provides three meals per day. There is a generous breakfast buffet and menu service for lunch and dinner. The pool-side restaurant and bar is La Palapa, open 10-5. Room service is available during meal hours.
Health & Beauty:
At El Presidente you have a choice of several massage rooms and spa treatments, a hair salon and beauty parlor, and a fully outfitted exercise center with an indoor pool.
Meetings & Conventions:
El Presidente has several meeting and function rooms for business events or private social gatherings. The Dali ballroom is a great location for celebrations, banquets, parties and large business meetings. It can handle 250 for a sit-down dinner, 200 in conference formation and 46 in a U-shaped table arrangement. Focolare and Perla de Lare are private meeting spaces for up to 20. There is also a business center with fax, computers and copying services. Internet access is available throughout the building.
Pools:
For those who prefer fresh water, El Presidente has a large swimming pool (with three different depths) and a special wading area for children. The beachfront is quiet, with services for hotel guests. The waves of the bay are large enough to be interesting, but not so strong as to be dangerous to young swimmers. The landscaping around the pool area is tropical and lush. Be sure to take advantage of the palapas located in the pool area and the beachfront sun deck.
(3 stars)