Copacabana Beach Hotel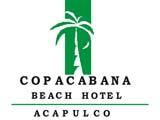 The Copacabana Beach Hotel is a luxury high-rise hotel right on the beach in Acapulco's "Golden Zone." At the Copacabana, guests have a choice of 392 rooms and 38 junior suites on 18 floors, either opting for the "all-inclusive" program (in which food, drinks, activities, entertainment, taxes and tips are included in the rate) or the "European plan" (which is accommodation-only plus breakfast).
Services. The Copacabana takes pride in giving its visitors the best service available. In the lobby a guest can take care of travel arrangements, set up in-room child-care, purchase sundries, visit the gift shop and boutiques, and obtain all the services of a complete business center. Parking is provided. Full laundry and dry cleaning services are available from the rooms.
Hotel Information
Rooms:
All of the more than 400 guest accommodations at the Copacabana can have up to four occupants. They are equipped with twp double beds, a private balcony with a view of the bay, comfortable wood furnishings, marble floor, a large closet, a full bath, climate control air conditioning, telephone with voice mail, a large cable television and an in-room safe. Some units also include robes and slippers.
Dining & Drinks:
El Agave is a lounge where people can meet, chat, dance to the music, eat snacks and have drinks in a luxurious atmosphere. There is a 42" screen television. Over 100 kinds of tequila. Open 6p-2a daily. The Tabachines Restaurant is by the pool, serving breakfast buffet every day from 7 as well as lunch and light snacks. During high season it also serves dinner -- both buffet and a la carte. Las Margaritas is a pool bar for the all-inclusive plan guests. The Kon Tiki is another complete bar by the pool. El Tequila is the beach bar, serving drinks for all those who want to take advantage of Copacabana's beachfront on Acapulco Bay. On the mezzanine level, the Acuario Bar and Restaurant serves three meals daily, buffet-style, including Mexican and international dishes. K'ffee Zucco is off the lobby. It is the Copacabana's Internet café, serving gourmet coffees, breads, pastries, pizzas, cheesecake and brownies. Scanning, copies and faxes can be handled here as well. In addition to all of these options, the Copacabana also provides service direct to the rooms from 7-11p.
Activities:
A guest of the Copacabana can decide how to fill the day. Many chose to spend it in relaxation, either by pool and the pool bar, or on the beach, or in the Copacabana's unique hammock area. The hammock area is like an outdoor reading room, set in a tropical garden, with hammocks and loungers instead of chairs. It is a cool and quiet refuge for reading, relaxation and even napping. Other guests will want to fill the day with organized outings for sightseeing, shopping, sport, hiking or riding horses. The concierge desk can handle all the details. During high season and on weekends, the Kids' Club "Copalandia" is an available children's program, including supervised activities and games, both outdoors and in a large play room, outfitted with lots of things to stimulate a child's interest, including books, video games and crafts. The Copacabana also provides guests a game room that looks out to the bay. It is set up for pool, ping-pong, fussball (futbolito), darts, chess, dominos, backgammon and cards. In the evenings, guests can enjoy the presentations of the Copacabana's entertainment team in the lobby bar, where they put on shows (like "Tropical Night") during the high season.
Health & Beauty:
The exercise facility is air conditioned and has an open-air feeling with glass walls. The Copacabana offers a complete selection of cardio-vascular equipment and weight-resistance machines. Music and televisions are also provided.
Meetings & Conventions:
The Copacabana has six meeting rooms and ball rooms for special events, and will be glad to host business gatherings, family occasions, weddings and other special events for any group of 20 up to 00 persons.
Pools:
The large pool provides a beautiful ocean view and lots of room for sunbathing and relaxing. Staff frequently organize events by the pool, like aqua-aerobics and volleyball. The pool has a large shallow shelf for wet sunbathing (soleadero húmedo) and a swim-up bar. At the beach the Copacabana provides palapas, lounges and chairs for enjoyment of the ocean in the sun or shade as well as a full food and beverage service. The three Jacuzzi's (one at the pool and two on the terrace level) are available for relaxation or therapy, and each has a full ocean view.
Policies:
• Check-out time: 1p; check-in time: 3p.
• Credit cards accepted: American Express, Eurocard, MasterCard, Visa.
• Non-smoking rooms are available.
• Pets are not allowed.
(3 stars)