Acasol Hotel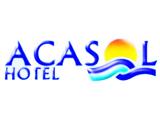 Acasol is a convenient, mid-range hotel near the beach in Acapulco, in the "Golden Zone."·Its proximity to the International Convention Center makes it especially useful to business travelers, but its amenities will also satisfy the holiday vacationer. It occupies a prime location, right between the Costa Azul and Club Deportivo sections of the Costera. The hotel offers 36 rooms in a complex of three, three-story buildings, together with a restaurant, bar and lobby facilities. Amenities include air conditioning, 24-hour reception, hotel safe, café, shopping nearby, a hairdresser, small and lively bar, auditorium, game room, reading room, restaurant, Internet access in public areas, parking, and laundry service.
Hotel Information
Dining & Drinks:
The hotel restaurant offers a delicious and complete menu of Mexican specialties and French Canadian cuisine. Breakfast is included for up to two guests in each room. The bar, Tequi Sol, is a small, glass-enclosed meeting place on the Costera, popular with locals and many visitors to Acapulco. It offers a complete menu of special cocktails in the line of margaritas, martinis and daiquiris.
Health & Beauty:
Right off the lobby is a beauty shop. The hotel will gladly advise concerning nearby exercise facilities.
Pools:
The hotel pool is ample, with room to swim and also to enjoy the sun in a lounge chair. Guests can enjoy their favorite drinks and snacks at poolside.
Policies:
With a minimum three-night stay other than at Christmas time and Holy Week, the hotel will reimburse guests, in lodging or consumption, the amount paid at the toll booths on the road between México City and Acapulco.
Stay in Acapulco 3 days and 2 nights, and receive the third night for free (double occupancy; includes breakfast).
(3 stars)