Water Parks & Aquariums
Cici Waterpark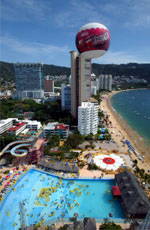 The CICI (which stands for Centro Internacional de Convivencia Infantil) is Acapulco's massive water amusement park. The CICI has it all, including dolphin shows, wave pools, water sides, beach club, "the sky coaster", "Kamilancha", "the Tornado", and a big balloon where you can go up 120 meters and get a 360-degree view of Acapulco. CICI also has all sorts of other fun things to do.
When it comes to the CICI, the calculation is really pretty simple: If you have children, you should not miss out on the CICI. The CICI is located in Costa Azul and is open from 10:00 am to 6:00 pm every day.
Mágico Mundo Marino
Mágico Mundo Marino ("Magic Marine World") is Acapulco's aquarium and water fun park. It is really more of an aquarium and less of a water fun park than its cousin, the CiCi. You will find it between Caleta and Caletilla beaches. It is a really good option for the kids. There are slides, a little museum, a nice restaurant and swimming pools. The best part is the seal show. If you did not bring any children along, then Mágico Mundo Marino is probably not worth a special trip, unless you can plan for a half day of lounging on Caleta beach, where, after having a few cervezas you can go to check out the show.
Castillo de los Reyes
Castillo de los Reyes is another of Acapulco's water fun parks. This one is located out at Pie de la Cuesta.