La Quebrada
Known around the world, La Quebrada and it's cliff divers are Acapulco's most recognizable symbol. Nothing beats the view and the sound of the open ocean crashing into the jagged rocks below or the green mountains that open into the city.
Most tourists who visit the area corral themselves in the mirador close to the cliffs to watch the divers perform. Others watch from the nearby Hotel Mirrador restaurant. Those dining there will get a chance to meet the brave young cliff drivers before their jump (and hopefully pay them a tip) for their daring feat.
We recommend that you don't limit yourself to just this one area of La Quebrada because there are beautiful walkways with glorious views all along the nearby avenue where you can see all the way to Pie de la Cuesta and little inlets that let you walk down near the ocean. Very well maintained and attractive sidewalks invite you to stroll all the way to Acapulco's seaside amphitheater Sinfonia del Mar, or continue on to the little known gem, Playa Angosta.
The locals park along the streets and drink with their friends at night. Lovers kiss and hold hands. You'll never see a more beautiful sunset than from Acapulco's Quebrada as the sun sinks and turns into a green flash of light before disappearing into mysterious Pacific Ocean.
Sinfonia del Mar - Acapulco's Amphitheater by the Sea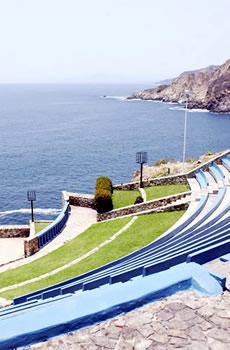 The Sinfonia is an small amphitheater built right into the cliffs overlooking the ocean near la Quebrada. Performances held there with the sound of the ocean crashing against the rocks below for dramatic effect would be an amazing to behold. Unfortunately, the only show one is likely to see at the Sinfonia are Acapulco kids drinking beer and making out. La Quebrada at night is lined with locals - guys drinking beer and couples doing the "lookout point" thing.
The entire area found between La Sinfonia and La Quebrada has been recently remodeled and provides for some of the most stunning ocean views on the entire west coast of North America. To describe the area as merely romantic or awe inspiring fails to capture its grandeur.
Locations
Acapulco
Mexico
16° 50' 45.78" N, 99° 54' 54.576" W
Acapulco
Mexico
16° 50' 45.78" N, 99° 54' 54.576" W