Grottos at Cacahuamilpa
The National Park of Cacahuamilpa is a network of spectacular caverns set in the Southern Sierra Madres, near Taxco. It is said to be the world's largest known network of caverns, and it is surely Mexico's most famous. If you are in Acapulco and plan a day trip to Taxco, you might want to sleep over and see the caverns the next day. The ride from Taxco takes about 45 minutes. (The park is 52 km from Taxco on state route 166, which puts it about 220 km from Acapulco and 81 km from Cuernavaca.) Buses, taxis and colectivos (really microbuses) and special excursions will take you there and back again to Taxco. Ask at your hotel desk exactly where to meet the transportation.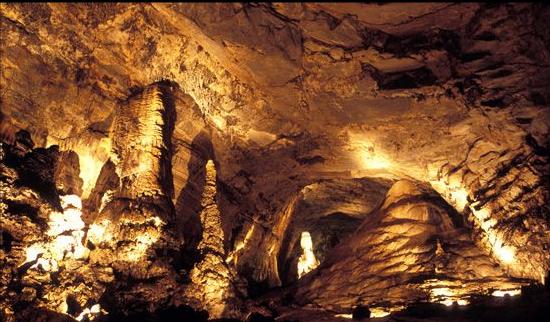 They were created when limestone rock was deposited on the land by a primordial sea that covered the territory millions of years ago. Water, which at first dripped and then flowed, created the vaulted rooms of the caverns and the colorful, majestic stalactites and stalagmites that adorn the chambers and the path that runs through them. For centuries they were inhabited by Chontal and Olmec tribes, who found they provided shelter and protection, as well as a fitting setting for religious ceremonies.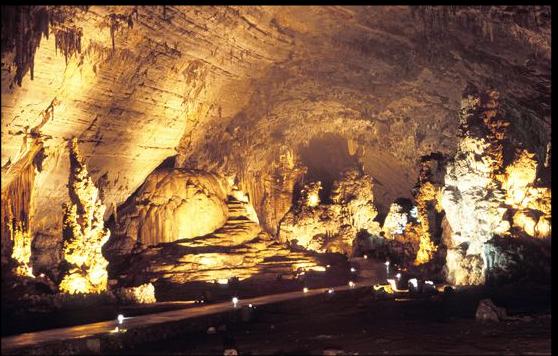 No one really knows how far the caverns go. The public is permitted to explore a bit more than the first two kilometers, which are well-lit and easy to navigate. A total of 10 kilometers have been opened up by spelunkers, but they have still not reached a definitive end. The roof overhead varies from 10 meters to 30 meters in the part open to the public. There are 90 chambers, some of which have natural lighting. Some of the formations resemble faces or figures, others profiles of animals or fountains. A famous chamber is called the throne room, another, the cathedral. All of them display the splendor of the limestone sculptures performed by the natural process of water erosion over millennia. Regardless of the weather outside, the caverns remain at a constant, cool temperature. The air is moist, but the caverns themselves are dry.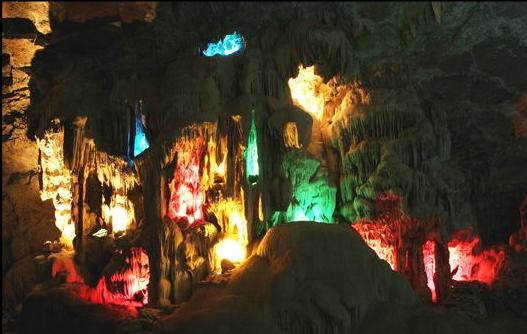 The caverns have been a protected park since 1936. Tours take two hours and depart from the entrance museum frequently, from 10:00 am until 5:00 pm. A full ticket costs $65 pesos, with discounts for children, students and the retired. Transport by Estrella Blanca (from the Taxco terminal) or by the more frequent city buses is about $20 pesos each way. There is a gift shop and snack bar in the museum area as well, and room for kids to play and families to have a picnic.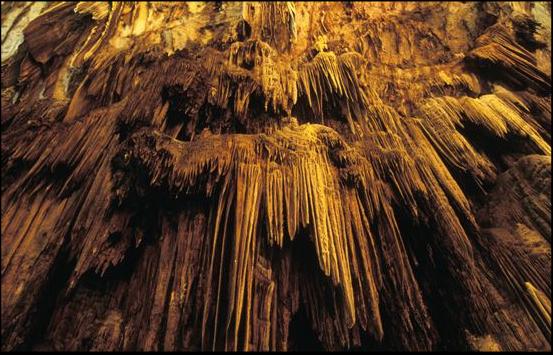 The park's official website is http://cacahuamilpa.conanp.gob.mx.
Location
Acapulco
Mexico
18° 43' 13.2456" N, 99° 39' 19.944" W