Dolores Olmedo House
Diego Rivera is, without a doubt, Mexico's most famous artist. He is known for such works as the "Epic of the Mexican People - Mexico Today and Tomorrow, 1934-35" which blankets a wall of Mexico City's Palacio Nacional. His wife, Frida Kahlo, was a renowned artist in her own right and today, after the release of the excellent feature film about her life ("Frida"), her fame may even exceed that of Diego
Diego Rivera is, without a doubt, Mexico's most famous artist. He is known for such works as the "Epic of the Mexican People - Mexico Today and Tomorrow, 1934-35" which blankets a wall of Mexico City's Palacio Nacional. His wife, Frida Kahlo, was a renowned artist in her own right and today, after the release of the excellent feature film about her life ("Frida"), her fame may even exceed that of Diego.
In 1956 Diego Rivera completed the seashell mosaics that adorn the outside of the house of art patron Dolores Olmedo in Acapulco. The murals took the famous artist over 18 months to complete and depict various Mesoamerican deities (the dragon above is Quetzacoatl).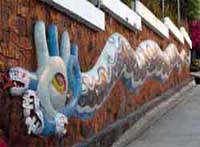 Diego Rivera passed away in this house in 1957. Although there has been talk of converting it into a museum, no action has been taken yet, so one is left to view the murals from the street. Unless you are a real fan of Diego Rivera, a special trip is not necessary. There is not much to see. These photos give you a good idea about the place. The neighborhood is pleasant to walk around and has some interesting old architecture. You will find a castle-like structure with stone lions guarding the front and some spooky old abandoned hotels. For art, however, think first of the Dolores Olmedo gallery, which is in the Convention Center is at the other end of town.
Calle Inalámbrica, 6, Fracc. La Pinzona, Acapulco, Gro. Mexico.
Locations
Acapulco
Mexico
16° 50' 42.234" N, 99° 54' 42.7608" W
Acapulco
Mexico
16° 50' 42.234" N, 99° 54' 42.7608" W
Acapulco
Mexico
16° 50' 42.234" N, 99° 54' 42.7608" W