"Operation Safe Guerrero" Launches
By:
David Real
| Real Acapulco News - 13 October, 2011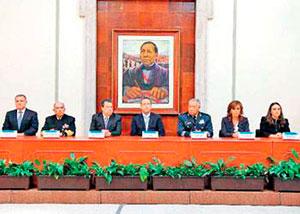 (Acapulco, El Sol 7 October) The federal Department of Public Safety will coordinate a state-federal partnership to make Guerrero safe, according to official announcements today. The Calderón government describes it as a circle with "ten strategic spokes" designed to clean up Acapulco and Guerrero in general, wiping out violence and guaranteeing the preconditions for a peaceful life, according to Secretary of Government, José Francisco Blake. Secretary Blake and Governor Aguirre jointly presided over the launching ceremony. Blake mentioned that the violence caused by rival delinquent groups, just in 2011 alone, has reached high risk levels in Guerrero, with murder rates doubling for the state as a whole and reaching 357% of last year's levels in Acapulco. Acapulco is now the second most violent Mexican city, after Ciudad Juárez.
Battalions of Federal Police arrived in Acapulco over the weekend, as initial evidence of the new "Operation Safe Guerrero." Where similar operations have been initiated in the country – like Veracruz, Nuevo León and Tamaulipas, federal forces have rounded up local law enforcement personnel, to administer polygraph tests and drug tests. Those who flunk are prosecuted for corruption.