Schools Close for Lack of Security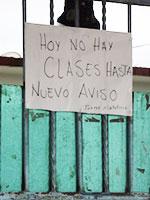 (Acapulco, NA 30 August) Nearly 100 elementary schools in the outlying suburbs of Zapata and Renacimiento are threatened with closure because approximately 400 teachers may refuse to go to work for reasons of "insecurity." Approximately 35,000 students would be affected. Yesterday teachers did not report to their schools. Instead, union leaders met with law enforcement and education officials in the afternoon, agreeing to work "in a normal way" starting today, but on condition that a higher level of police protection be provided at the elementary schools.
The law enforcement authorities and education administrators expressed the view that the problem is not the result of organized crime violence, but rather, juvenile vandalism. They pointed out that there have been relatively few, if any, violent incidents in the areas around the public schools. Nevertheless, police officials agreed to assign 150 patrolmen to educational centers in Zapata and Renacimiento, to keep order and provide security to the teachers.
Notwithstanding the outcome of yesterday's meeting, today handwritten signs were posted on several elementary schools in Zapata and Renacimiento and a junior high school in La Venta, advising "Classes canceled until further notice." The work stoppage affected kindergartens, elementary schools and junior high schools, but not all of them failed to reopen today. Personnel from the closed schools said that they were responding to threats received by teachers and administrators. Rumors circulated that the closed schools would reopen tomorrow. A number have been closed since Monday. Authorities believe that the isolated closures are not the result of a concerted job action by the teachers' union, but rather initiatives taken by personnel local to the schools affected.