Six Shootouts Leave Three or More Dead
By:
David Real
| Real Acapulco News - 04 August, 2011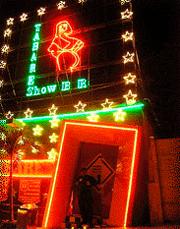 (Acapulco, NA 4 August) Within one hour last night, at least six shootouts took place in Acapulco, two of them in bars in the tourist zone. Three persons were killed and eight wounded. The trouble started around 10:40 pm in the working class suburbs outside of the city proper. In Las Cruces, a frequent hot spot of drug gang violence, gunmen shot up a bar called "Los Limones," wounding six persons. In nearby La Cima, twenty minutes later, a colectivo taxi driver was shot and killed. Soon afterwards, on the street outside the strip bar "Tabares" (on the corner of the Costera Vieja and Avenida Farrallón on the edge of the tourist zone), two taxi drivers were shot, one of them fatally. The fleeing gunmen strafed the police car parked outside, but no one was injured. The gunmen then headed for the bar on the Costera, in Condesa, called "El Mojito," where they murdered one person in the entrance and wounded four more inside. The time was exactly 11:40 p.m. Another exchange of gunfire was heard in the remote suburb of Moctezuma, where one more person was wounded.
Acapulco mayor Manuel Añorve Baños gave an interview to the newspaper El Sur, in which he stated that this recent rash of violence is due to a "reshuffling of the drug groups and organized crime." He reiterated that the municipal government, together with state and federal authorities and the Army and the Navy, will continue to pursue and extinguish these gangs. After the recent arrest of "El Koreano" (a reputed kingpin in CIDA, Acapulco's home-grown drug cartel), several gangland executions have taken place, as factions realign themselves. The mayor asked that "we do not let ourselves get distracted by organized crime; we need to be busy taking care of the thousands of visitors who continue to come to Acapulco, and to promote sports, culture, and education."