Police Extortion Causes No-Shows at Custom Auto Event
By:
Staff
| Real Acapulco News - 18 July, 2011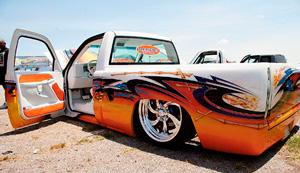 (Acapulco, ElSur 18 July) The customized auto show known as "Show Tuning Acapulco" was held, as usual, in Parque Papagayo over the weekend, with over 100 vehicles on display. The main feature being exhibited was audio systems. But 20 of the show's exhibitors were missing. They failed to arrive in the port because of alleged "police extortion" on the highways. The owners, who were to come mainly from Iguala and the Costa Chica, reported that police officers stopped the vehicles and claimed that the documentation was incorrect or that the vehicles were of dubious ownership. The police asked for money from the drivers, which they were unable or unwilling to pay, so they turned around. Luxury cars and unusual vehicles are commonly stopped by police, looking to supplement their wages with "tips" for not writing up tickets with phony charges.
The organizer of the event explained that the "Tuning" is an independent organization of hobbyists who invest heavily in "personalizing" their vehicles, especially the interiors.