Governments Sign Security Cooperation Agreement
By:
David Real
| Real Acapulco News - 11 January, 2011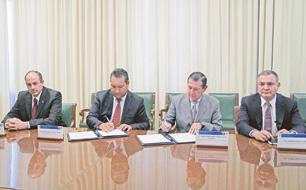 (México, DF, NA 11 January) The federal government and the State of Guerrero signed a security agreement yesterday with the objective of guaranteeing security, governability and transparency within the state. One of the motives is to safeguard the right of all voters in Guerrero to exercise their franchise next January 30 without intimidation and vote fraud. Signing on behalf of the national government was José Francisco Blake Mora, Secretary of Government. Governor Torreblanca signed for Guerrero. The agreement also provides for measures and mechanisms to confront organized crime more effectively. The nation's Attorney General, Arturo Chávez Chávez, and the Secretary of Public Safety, Genaro García Luna, were also present at the ceremony. The officials provided their analysis of the situation in the poorer suburbs of Acapulco, where over 30 people were murdered in drug-related violence over the previous weekend.
Shortly after the agreement was signed in Mexico City, officials at all three levels of government held a meeting in Acapulco to coordinate their respective tasks concerning crime prevention and enforcement.
In a separate press conference, Alejandro Poiré, technical secretary of Mexico's National Security Council, also decried the violence in communities surrounding Acapulco during the last few days, and expressed the opinion that part of the blame should rest with the state and local law enforcement agencies, which typically do nothing to prevent it or to capture those responsible. He acknowledged that the violence is the result of turf battles between competing drug gangs, but lamented that local law enforcement takes no action against it. For that reason, he affirmed that the federal police and military need to take a leading role in the fight against organized crime. Most of the murders last weekend were accompanied by "drug posters" claiming responsibility by the Sinaloa Drug Cartel of Joaquín "El Chapo" Guzmán. Poiré recalled that the federal Attorney General made a list of the 37 most wanted drug leaders in 2009. Of the names on that list, the federal government has resolved over half, either by death or arrest. In the last half of 2010 the number of deaths associated with narcotics criminals dropped noticeably as compared with the first half of the year. Shortly the federal government will issue its report on violent crimes in 2010. Poiré commented that it will show that Chihuahua accounts for 30% of the total, and Sinaloa and Tamaulipas together add another 20%.