Wind, Water & Waves
Boating, Sailing & Fishing in Acapulco
It is hard not to fall in love with the sea when you have so many choices of boating, sailing and deep sea fishing in Acapulco. Even if you are not the maritime type, you will be missing out on a lot of fun in Acapulco if you did not at least go out on a boat and cruise around the bay.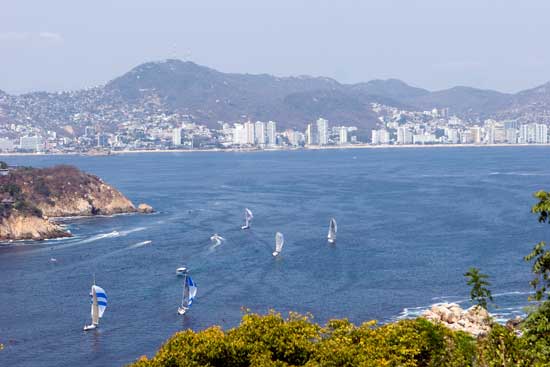 All the imaginable varieties of vessels and captains can be hired in Acapulco, and you have a wide range of choice for places to visit up and down the coast. Heading west and north, you will go towards La Quebrada and then Pie de la Cuesta. On the way, be sure to notice the traditional hotels, set up on the cliffs of old Acapulco. You can also aim south and east out of the bay towards Puerto Marqués and Acapulco Diamante, or just cruise the bay and look at the grand homes of the wealthy and well-known in the traditional part of town.
In truth, there are two Acapulco's: Splendorous Acapulco by day and the sultry Acapulco by night. Each has its own personality. Day trips are filled with swimming, snorkeling, fishing and sightseeing. At, night the excursions are all about romance (the moonlight cruises) or partying (the "booze cruise," where you can drink till you drop).
Acapulco Yacht Club
The Acapulco Yacht Club is a well-known anchorage, where many of world's rich and renowned have docked. Services include water, ice, restaurants, fuel, telephones, internet, gym, dry docks, stream rooms, pool, and more.
La Marina
The Nautical Club offers slips for 332 boats, condos, gardens, and 24 hour security.
Scuba Diving &; Snorkeling
Several companies in Acapulco offer scuba lessons and outings Look for them under tours and excursions or got the business directory.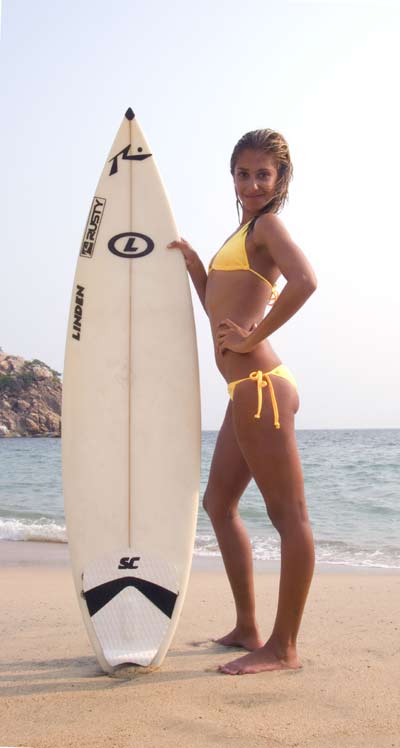 Parasailing & Paragliding
You can't miss it. At all hours of the day you can people high in the sky on Acapulco bay. The way to find it is to go out on the beach in the hotel zone and follow the para-sailers to the source. An outing of paragliding normally runs about $30 USD.
Surfing & Boogie Boarding
Though Acapulco Bay is not a very good location for it, Acapulco does has some decent surfing at Diamond Point, Revolcadero Beach, and Bonfil.
Water Skiing
Acapulco is a great place to go water skiing, especially over by Manzanillo Beach and the Yacht Club, where the waters are a little calmer than out in the bay or up at the east end.
Waver Runners and Jet Skis
Over in the hotel zone (Condesa and Icacos more specifically), you can rent jet skis by the hour or half hour. The machines are lined up along the beach. Look for the parasailing and you'll find the jet ski rentals. The cost is about $25-30 for a half hour.
Windsurfing in Acapulco
Acapulco has some decent windsurfing around the Costa Club Hotel and Hornos beach.
The Banana
Take a ride on "the banana." Paris has its cafes, London has its pubs, and Acapulco has the banana. It is little more than a large, yellow inflated... well, banana. A group of people climb on it and then are pulled behind a motor boat. They are a lot of fun, especially for kids. Highly recommended for people who are too dignified to enjoy themselves while on vacation. Be sure to take their picture to show to the friends back home.