Restaurants - A Taste of Acapulco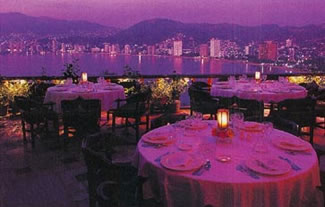 Acapulco welcomes visitors with hundreds of different places to dine. In general, the type of restaurant will give you a good idea of how much the food will cost. Fine dining has the widest range, of course – from $25 per entrée to $75 or more. Less formal restaurants in the traditional format are plentiful, and they take advantage of Acapulco's casual lifestyle.
These places will serve you a full and satisfying meal for between $15 and $25 per entrée. This is around $25 to $40 per person, total bill, without drinks or tip. Family restaurants and cafeterias are more economical yet, and generally allow a diner to get in and out for between $10 and $20 for a meal or snack. The taco places ("taquerías") and fast food places are clearly the most economical. Even so, some taquerías really serve a full range of Mexican dishes, from the most basic up to the most elegant.
Click here for our extensive list of Acapulco restaurants