Pie de la Cuesta - Acapulco's Virgin Beach
Pie de la Cuesta, along with Puerto Marqués, is a true hidden gem and representative of the natural beauty of the Acapulco area. The drive out there is almost as enjoyable as actually getting there. The ride takes you though Guerrero's sublime countryside, the sort of countryside where you can stop and get the freshest of fresh fruit and see peasants with their burrows, ambling along the dusty road with the sun and the sky in their eyes.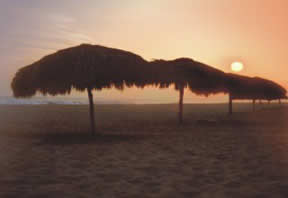 Pie de la Cuesta is basically miles and miles of quiet beach, sandwiched between the open ocean and the tranquil Coyoca Lagoon, a body of fresh water that is actually some three times bigger than Acapulco Bay. It contains several small islands and a former banana plantation. This is an ideal spot for photographers and bird watchers. Most of the hotels and tourist attractions are located on the Acapulco side, near the entrance, but a number of other possibilities emerge as you travel northward to the other end. You can drive all the way to the far end, passing mile after mile of primitive landscape before arriving at Barra de Coyoca, where the lagoon meets the sea. This road will give you a sense of utter freedom. You can't go too fast because of the speed bumps (the dreaded "topes"). But it is best to take it slowly in any event because the drive is so beautiful. You can think of this road, which runs the whole length of Pie de la Cuesta, as a ten-mile-long cul du sac.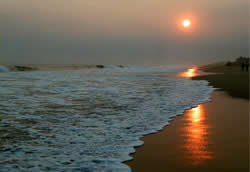 Some travelers to Pie de la Cuesta may see some little girls from the villages, who seek donations for their school from passers-by. They lay a thin white string across the road, and when a car approaches, they pull it tight, raising it to windshield level. If you stop, a troop of cute kids will approach to ask for help with their school. At Pie de la Cuesta the mighty Pacific Ocean is more for admiring than for swimming. The waves can be huge and violent. Even the most stalwart swimmer would quickly decide they're no match for the waves at Pie de la Cuesta and lose any notion of trying to conquer this stretch of the sea.
How do you get there?
You can get to Pie de la Cuesta by bus, taxi or car. If you take a taxi or bus, you will be dropped off at the entrance, and you will be limited as to how far up the beach you can go. Many flat rate taxis (or "colectivos") will take you out there on a shared ride basis for a very reasonable amount. They leave from near the Zócalo in the area behind Sanborn's. Just say "taxi para Pie de la Cuesta" and you should find your way. Buses to Pie de la Cuesta start where the elevated highway (called the "Via Rápida" or "Diego Hurtado de Mendoza") meets the Costera just west of downtown.
How do you get back?
Getting back from Pie de la Cuesta can be a little challenging, especially if it is late in the evening. Typically, taxis hover around the entrance. If you're feeling adventurous, you can even hop into the back of a pickup truck with some of the locals. Buses also stop at the entrance, but they run less and less frequently as day turns to night. Pie de la Cuesta offers a few good choices of hotels that you can read about in our hotel section. Most are rustic lodges, but some upscale selections can be found there as well. Camping is available. Some people feel comfortable just sleeping on the beach.
Location
Acapulco
Mexico
16° 54' 28.3068" N, 99° 58' 45.642" W