El Zócalo - Acapulco's Old Town Square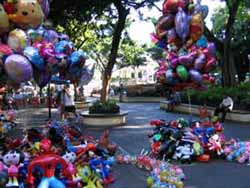 El Zócalo is Acapulco's old town square or central plaza. While once an important part of Acapulco's city life, today the Zócalo would best be described as a sleepy little park with some pleasant stone benches, fountains, a large stone gazebo, and Acapulco's large Catholic Cathedral. The Zócalo also has a number of cafes and restaurants, a few shops, two low-budget hotels, and an ice cream shop. It's as close to the traditional sidewalk café of Europe or Mexico as you can find in Acapulco. Many residents come here to relax, read a paper or book and people watch. This is also the main center for getting your shoes shined. If your system survives the challenges put to it by Acapulco's busy nightlife, bring it to the Zócalo for a rest. Feed the pigeons, just as they do in New York's central park. Just behind the Cathedral you'll find Acapulco's oldest neighborhoods where the wealthy traders made their homes. There are also some jewelry and other stores nearby and one can easily walk from the Zócalo to several other tourist attractions: Acapulco's traditional
Mercado El Parazol
, the
Malecón
,
cliff divers
, and the
Marina
. Several traditional Mexican restaurants and a good selection of budget hotels are found within a radius of just a few blocks. If you're short on time, you can visit and enjoy the Zócalo in just a few minutes, if necessary.
Cathedral - Nuestra Señora de la Soledad
Acapulco's historic Catholic Cathedral, Nuestra Señora de la Soledad, rests at the end of it's traditional town square, the Zocalo. Despite the age of Acapulco, the church wasn't built until the 1930s and so lacks much of the glorious colonial architecture of Mexican cathedral. As you can see by the photos, it has the distinctive look, reminiscent of a mosque. The inside is beautifully decorated with ornate statues. The Cathedral is open 7am-9pm daily there is no charge to enter, but you might get handed the collection plate.
Location
Acapulco
Mexico
16° 50' 50.7372" N, 99° 54' 31.0968" W