Ecotourism & Natural Delights
The International Society of Ecotourism defines ecotourism as "responsible travel to natural areas, [travel] that conserves the environment and improves the well-being of local people." At its roots, therefore, ecotourism is all about our desire as creatures of the man-made world to go out and see what nature is really like, with a view to preserving it.
Principles of ecotourism include enjoying the natural environment while minimizing the tourist's impact on it; being responsible stewards of the Earth; and being respectful local populations. At the very least, it means avoiding trampling plants and throwing garbage (unlike the locals and tourists who seem to feel free to litter without hesitation).
Acapulco is a great place to take in the beauty of the tropics. There is no shortage of places to go for relaxing moment in the hand of creation. Exotic flora and fauna can easily be found among Acapulco's many jungles, mountains, lagoons and virgin beaches.
Here are some good options, but if you're creative, just rent a car and drive out until paved roads give way to dirt roads and where shoes and sandals are optional.
Barra de Coyuca & Coyuca Lagoon
The Laguna de Coyuca is a fresh water lake near Pie de la Cuesta and the small pueblo of Embarcadero, approximately 6 miles (10 km) north of Acapulco, along the coast. Laguna de Coyuca is a fairly large body of water, over 10 miles (16km) long and almost 5 miles (8km) wide. The maximum depth is 23 feet (7m). The water is clear. This is a fine location for fishing or sailing. Robalo and a dozen other species of fish live there. Fishermen can also try for freshwater shrimp and crabs. Motorized boats are allowed, so water skiing is also possible. There is a bird sanctuary around the Laguna de Coyuca and on the four islands in the middle: Presidio, Montosa, Pío Quinto and Pájaros. Black and white herons, pelicans, ducks, storks, and many other aquatic species can be photographed there. Boat tours are available for you to have a closer look at everything. Early Tarzan movies and Rambo II were filmed here, as the Laguna de Coyuca is everyone's idea of what a tropical jungle should look like. Nearby, several restaurants provide refreshments and fresh seafood.
Tres Palos Lagoon
From the top of Las Brisas, on the Escénica that rises above Acapulco on the east side, one can look past Puerto Marqués (a small, quiet inlet of the ocean) to Playa Revolcadero, an often turbulent beach where the waves can be very strong. Beyond lies the international airport. To your left, extending out along the point of land on which the airport is built, is the Laguna de Tres Palos. It is a large, natural, fresh water lagoon that is home to many different species of vegetation, birds, fish and mammals. This natural body of water is so large and wide that it is often mistaken for a sea inlet. You can explore the Laguna de Tres Palos by boat or jet-ski. As the waters flow through the lagoon towards the sea, they tend to make small channels in the vegetation. There, a quiet visitor will be able to see wildlife up close. A couple of good restaurants are open along the shores of the lagoon, with boat rentals and places for the children to play. There is a national movement in Mexico to protect the Laguna de Tres Palos from further contamination and to create a nature reserve of some sort. So far, this area has not been made into a park or ecological preserve.
Barra Vieja
Barra Vieja is a long, tranquil, sandy beach east of Acapulco, about 20 miles (32 km) past the airport. It is probably much like Acapulco in the 1950's and earlier. Because of its relative remoteness, it attracts very few partiers and spring breakers. Mainly, the visitors are couples and families. Along the coastal road you will see several signs to a restaurant or "beach club," usually a few hundred feet down a dirt road to the ocean. Barra Vieja has many such places. You may see people standing at the main road, trying to usher passing cars into their establishments. It is a good idea to make some inquiries and check out places before you go, particularly if no one in the group speaks Spanish. There are several excellent places on the way to the village itself, and several more once you get there. If you go as far as the lagoon, turn around.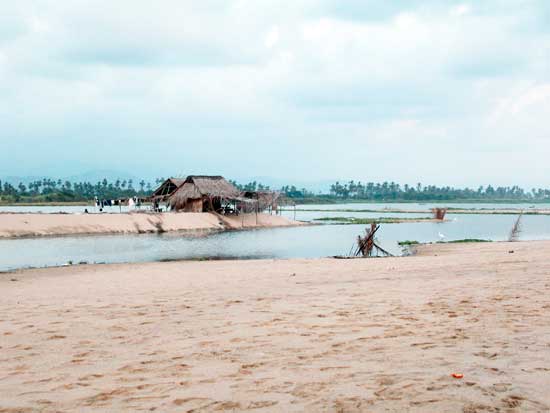 The restaurants and "beach clubs" have a familiar format. Once you pull in, there will be a lot of parking. Then, closer to the ocean, you will come to the main bar and restaurant, usually under a metal roof or a large palm palapa. Next there may be a modern swimming pool with places to shower and change clothes. Beyond the pool, closer to the ocean, you will find palapas or cabanas, many hung with hammocks. You can choose where you want to stay: the restaurant, the pool, or the beach. Many prefer the beach for the view and the chance to take a stroll up and down or to bathe in the sun by the waves. The restaurants will serve down on the beach side as well as up at poolside. The menus are replete, of course, with seafood prepared in many different ways, as well as other snacks and drinks. The beaches are almost deserted by comparison with Acapulco, with very few vendors. A camp nearby raises sea turtles to help preserve this endangered species. This may be a worthwhile stop, especially for the kids. During certain seasons of the year (around 5:30 pm) the hatchlings are taken down to the beach and released. Visitors can also make an outing on ATV's (4-wheelers), go horseback riding on the beach and environs, or lounge about on the sand. Try a beach massage, or order a bucket of beers and watch the sunset.
El Veladero National Park
El Veladero National Park is a large ecological reserve located in the high area above the geological amphitheater that forms Acapulco Bay and protects Acapulco's watershed. The park, established by law in 1980, extends for nearly 8,000 acres (3,160 hectares) along El Veladero ridge. During the war for Mexican Independence, El Veladero was a strategic point of attack and defense of Acapulco. It served as a lookout point, outpost and supply place for insurgent troops under General José María Morelos and for Spanish forces under the command of José Gabriel de Armijo. Today, most of the park is covered with jungle vegetation and deciduous trees. Sea Eagles, song birds and many other bird species are in abundance, as well as small mammals, reptiles (including boa constrictors and iguanas) and insects of all sorts.
El Veladero National Park is a great place for hiking and horseback riding. One popular destination is Palma Sola, which consists of several boulders containing numerous petroglyph made by the Yopes, the area's earliest inhabitants (200 BC to 600 AD). The simple carvings are made in 18 massive rocks of 1 to 8 meters in width and 1 to 4 meters in height. They are spread around 10 acres (4 hectares) of an area recently equipped with paths and steps to make access easier. The glyphs represent humans, animals and geometric shapes, each carved several millimeters into the rocky surface. Another great destination is to the top of Veladero Ridge, from whence one can see for miles and miles to the east and west as well as down to the entire bay around Acapulco. About 700 persons, mainly indigenous peoples, still live in the confines of the park. The best way to get here is by taxi or car. Parking is plentiful. If you come by taxi, arrange a pick-up time with your driver, as there is no taxi stand at the park. Calle Independencia s/n (Surrounds Acapulco). Open during daylight hours.
Botanical Garden
Acapulco's Botanical Garden, located at Heroico Colegio Militar (near Loyola University of the Pacific), has large, pleasant grounds and gardens.
Hiking on La Isla de la Roqueta
This is a fantastic option for ecotourists. See our page on Isla de la Roqueta in the attractions section for more information.
Puerto Marqués Lagoon
A third lagoon offering is Puerto Marqués Lagoon, also known as the black lagoon, due to the ink-like water, which is colored by the the dark roots of the mangrove trees. Its canals connect it to Revolcadero Beach.