House of Masks
We're sad to report that <a href="http://www.realacapulco.com/en/news/11-19-2010/house-of-masks-closed-for-good">the House of Masks is closed</a>.
We're sad to report that the House of Masks is closed.
The House of Masks ("La Casa de la Máscara") is a small, private museum collection on Calle Morelos, just off the Costera Alemán and a few feet past the entrance to the Fort of San Diego as you head towards the center of the old part of town. An old residence houses the collection.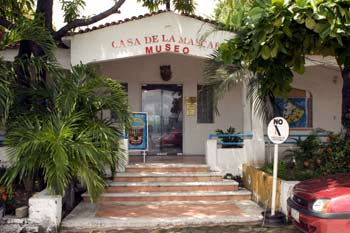 Well before the arrival of the Spanish in Mexico the indigenous peoples had developed a highly complex system of beliefs and rituals, many of which used animals and animal spirits as models or totems. The House of Masks is a fascinating tour through this native culture, employing the masks as a way of explaining it. The pre-Columbian tradition used wood and clay masks to portray jaguars, crocodiles and tigers. Priests and dancers would don them on festive occasions. The later masks showed the indigenous peoples' view of the Spaniards, with spade-like beards and devil's horns. Even today in the State of Guerrero these traditions survive with dances like the "Dance of the Old Men," in which the native elders outlast the decrepit old Europeans. There is also the dance of the "Moors and Christians" and the "Battle of the Tigers."
The House of Masks displays around 400 examples of masks of all different sizes, shapes and colors. The whole collection is much, much larger — over 1,000 — but space is limited. Videos of native dances are shown, such as a supplication for rain. From time to time mask artisans run workshops for kids and grownups on how to make and decorate masks, as well as how the dances are performed. Entry is free; a donation is requested. The museum is open from 10 to 5 on Monday through Saturday. Calle Morelos s/n, Ex-Zona Militar B, a half block from Fuerte de San Diego.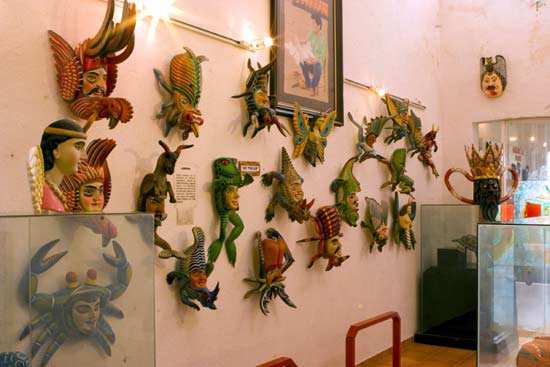 Locations
Acapulco
Mexico
16° 50' 59.0316" N, 99° 54' 13.6368" W
Acapulco
Mexico
16° 50' 59.0316" N, 99° 54' 13.6368" W
Acapulco
Mexico
16° 50' 59.0316" N, 99° 54' 13.6368" W