Acapulco's Sexy Nightlife
Acapulco has one of the best nightlife scenes in the world. The action really gets going around 1:00 am, when, if you were in US, they would start kicking you out into the street unceremoniously. Acapulco clubs are open all night, typically until 5 or 6 am, which gives you plenty of time to meet new people (some of them well-lit), and to dance all night long.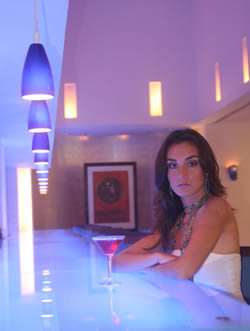 Acapulco offers several "party areas". Las Brisas boasts Acapulco's big, high-end discos where shorts and sandals definitely are unwelcome. Palladium, Mandara, Classico del Mar, and Sky Garden are some of the hippest options in the area. Another area is closer to downtown. Starting at La Quebrada, along the Pacific side, stroll to the Sinfonia del Mar and beyond. Here you can party the night away. The streets fill with locals, who park their cars, crank up their music, and break out the cerveza. A handful of small bars also dot the landscape, but most people just bring their own supplies. With minor exceptions, the remainder of Acapulco's nightlife can be found scattered along the Costera, Acapulco's main drag, starting at the salsa club at the Copacabana all the way to El Alebrije at the end of the Golden Zone. If you go past Las Brisas, down the winding Scenic Highway to Acapulco Diamante, you will also find a few, mainly upscale offerings. That said, hands down the main party spot in all of Acapulco has been, and remains, The Condesa.
La Condesa
Acapulco's La Condesa district is where the nightlife begins and the place to go for door to door partying. Like a lady of the evening, La Condesa seems a little dowdy and commonplace during the day, but it really comes alive after the sun goes down. Some of Acapulco's most lively and noisy clubs are located here, along with the famous bungee jump at Paradise. Some of the other flagships in this fleet are Barbaroja, Mango's, Mojito, Disco Beach, Beto's Condesa, and Baby Lobster Bar. Hotels such as Fiesta Americana, Tortuga, and Romano Palace are located right in the center of the action. The Condesa also boasts Acapulco's main gay beach, and some of the bars welcome gay couples. Near the Condesa are several strip clubs, and you can find, if you look for it, practioners of the world's oldest profession. This is no place to be if you want a taste of traditional Mexico or some R & R. However, if your plans include getting wasted and maybe meeting someone interesting in a bar for an evening of fun later on, La Condesa is ground zero. If you're in the mood for a party, you've come to the right place.
Acapulco Night Clubs
For more information, see our Nightlife section.