The Best Time to Come to Acapulco
The best time to come to Acapulco is really a very personal decision. Four factors influence how you decide when the best time is for you to travel: climate, crowds, costs and connections.
Climate
Most travel advisers agree that Acapulco is really a year-round destination. The beautiful bay receives 300 or more sunny days per year. It seldom gets very hot, and never gets cold. The worst luck you can have is to encounter cloudy or rainy days, which are few, and occur only in certain months of the year. Look at the graphs below. There is very little fluctuation in humidity and temperature, on average. The changeable variable is the precipitation. For this reason, most tourists enjoy coming in the dry, sunny months, from mid-November to the end of April. The following tables represent monthly averages, compiled over 20 years or more. They show the average daily high temperature to be fairly consistently around 32°C (90°F) and the low to be around 24°C (75°F). In mid-summer, obviously, the highs and lows are both above that, and in winter they are below. Relative humidity stays rather stable at about 75%. Rainfall varies greatly. In the graph, 50mm is approximately an inch of rain. A "wet day" is defined as any day in which the precipitation was measurable (0.01" or more. That is 0.25mm). The source is the Instituto Nacional de Estadística y Geografía.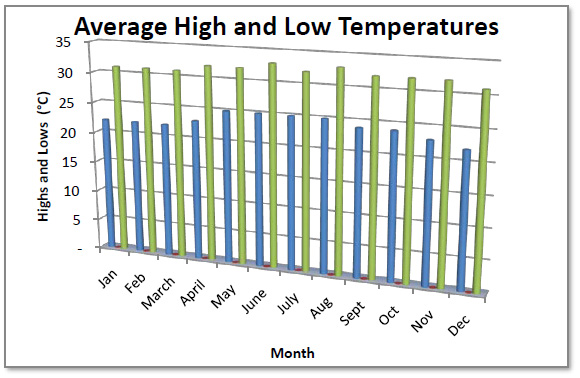 The dry months are generally called "high season" in Acapulco, and of course, the hotel rates, airfares and other costs reflect the fact that most people like to travel during "high season."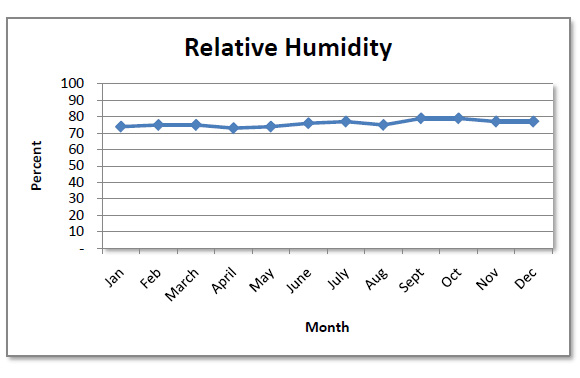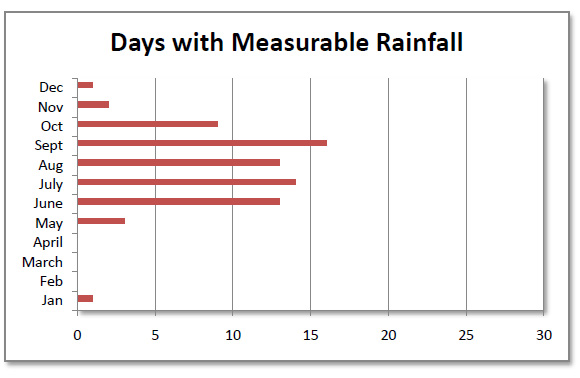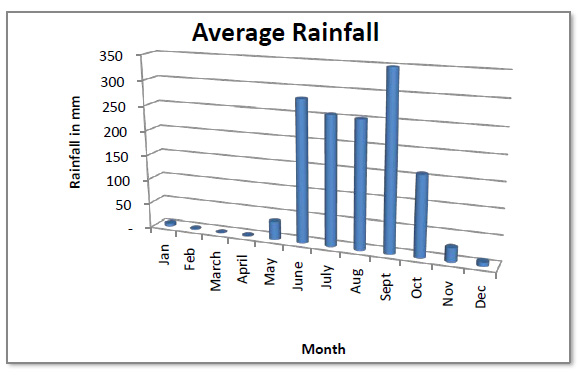 From a climactic point of view, the other months are not "low season" in any special way: the summers are a little hotter and wetter than the winters, but it is just a matter of degree. As elsewhere in the tropics, during rainy season, the clouds begin to build at the end of the afternoon, and often there will be an evening rain shower. But otherwise the days are usually bright. Occasionally tropical storms come through town. Rarely do they cause alarm, but they always dump a lot of water on Acapulco and keep back the sun for a day or two.
Crowds
Acapulco's tourism is both international and national. More people come to Acapulco from Mexico City, just a few hours' drive away, than from any other place. Mexican tourists normally come for shorter stays than their international counterparts, and respond much more to the calendar than the climate. For example, the weekend right after the start of summer vacation from the schools is very busy. So also is the weekend before classes resume. "Three-day weekends" caused by a national holiday (such as National Independence Day) attract many people to the beaches starting as early as Thursday and going through the following Monday. These are called puentes (bridges). Many Mexican tourists also like to come to Acapulco for Christmas and for the New Year's celebration on the beaches. Others make an annual visit in the week before Easter, or Holy Week. See our list of holidays and special events for complete information.
The point is that if you are looking to have fun with lots of other people, the puentes and the Christmas and Easter holidays are the times to plan a trip. If, on the other hand, you are seeking to avoid large crowds in the hotels, restaurants, nightclubs, stores and beaches, then these would be good times of the year to leave out of consideration.
Another time to seek out or avoid, according to your tastes, is Spring Break, when Acapulco's "Golden Zone" fills with partiers from colleges and universities in Canada, the US and Mexico, all bent on welcoming Spring and saying good-bye to Winter. The dates vary each year. Generally "Spring Breakers" start appearing in mid-February, and reach their full impact in mid-March. By Easter they are usually no longer in evidence. See our page on this annual ritual here.
Costs
Prices in Acapulco generally follow the pattern of "high-season" vs. "low-season," but with some exceptions. The exceptions involving higher than average costs apply to the week between Christmas and New Years (really, December 24 to January 2) and to the week before Easter, through Easter Monday. This is when everything in Acapulco costs a bit more. When riding the city buses or taxis on New Year's Eve, for example, expect to pay double or even more. Many accommodations charge premium rates and also impose minimum stay requirements.
On the other end of the spectrum, two periods of the year are unusually slack. One is between the end of the Easter festivities and the start of summer vacations for school. This is roughly from mid-April to mid-June. The other is from the end of summer vacation and the beginning of the tourist season, roughly from mid-August to mid-November. Each period has a couple of "puentes" or high-spots, but these are times when a tourist can find bargains. They range from retail sales, to 2-for-1 offers at bars and restaurants, to reduced prices for hotel rooms, or free upgrades. During these times a person with an eye for bargains and bargaining can do well. Cash is much appreciated – much more than credit cards – and there will be almost no competition for taxis, tables in restaurants and places on the beach.
In these slack times the hotel rates are lower, partly because they do not always provide the same level of service as in high season. For example, not all the restaurants may be open for business, or perhaps the "Kid's Club" is not in operation. It is always prudent to check on these details if they are important to you.
For the rest of the year – in between the times of peak traffic and the times of many vacancies – Acapulco operates at a "normal" clip. The hotels and restaurants may offer special deals from time to time, and the vendors are always glad for a sale. There may be some flexibility in prices, especially if the deal has unusually attractive aspects for the seller, but cost will not be a particularly weighty element in the consideration of whether to come or not.
Connections
If you plan to come during high season, you will have the best selection of methods of getting here. International airlines operate direct flights, national air lines put on extra flights into Acapulco, and lots of charters operate in and out of the "Pearl of the Pacific." The important thing is to speak up quickly for your place and secure it with a deposit. The demand for transportation is greater than the supply, especially during high season, and even more especially at Christmas and Easter time.
Cruise ships operate generally from September to May, with most arriving between November and March. During the off season only a few cruise ships are available.
During less busy times, flights into and out of Acapulco may be indirect (via Mexico City) or infrequent (as in once a week from, say, Newark). The air fares tend to follow the "high-season/low-season" trend of being more expensive after November 1 and before May 1.
A useful off-season option is to arrive in Mexico City and take the bus to Acapulco. It takes about 6 hours, portal-to-portal, is comfortable and safe, and costs about $35 one way. (See our page on bus travel).